Post by Megatron on Aug 18, 2019 2:59:54 GMT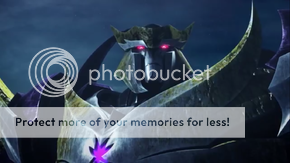 MEGATRON
————————————
Name: Megatron
Nicknames: Megatron
Age: Approx 5 million
Faction: Decepticon
Rank: Formerly leader of the Decepticons now an exile.
Alternate Form: Enhanced Cybertronian Jet
Primary Residence: An ice nebula approx 4 light-years from Cybertron
———————————
Weaponry/Special Abilities: Retractable blade on right arm. Fusion Cannon. Slipstream drive. Expert at melee and hand to hand combat. An infusion of Dark Energon allows him to control the deceased infected with the blood of Unicron for a short time.
Holoform: None
Any Team Affiliations?: None
Notable Partners: None
———————————
Family: None
Significant Other: None
Likes: Despite his warlike ways Megatron does enjoy what little quiet time he can find. He collects weapons from fallen enemies as well as remnants from his own past. There was an old cannon of his from his gladiatorial days on the wall in his old office on the Nemesis. He enjoys studying the past mostly tales about his namesake Megatronus. He also reads up on his current foes, know thy enemies.
Dislikes: Autobots, Humans, Disloyalty, Optimus Prime, Scraplets
Personality: Megatron can be ruthless and deadly. He approaches any and all situations with calculated cunning. He is a leader not only because of his might but because he is always three steps ahead of his enemies. A trait he learned during his time as a slave in the mines and in the gladiatorial ring of Kaon.
Megatron is not a superstitious mech by any means but he does have a sense of destiny. He believes his path is right not only for himself but for all of Cybertron. The only way his world will survive is if all are equal. Even if it means he must force them to be.
Due to an infusion of Dark Energon that not only revived him from near death it also prevents him from rejoining the AllSpark should he ever perish. A fact that weighs heavily on his mind.
History: Megatron started out as a mining robot designation D-16. A slave to dig for ore in the bowels of Cybertron in its early years. Cybertron was then ruled by a caste system that kept its inhabitants under a strict hierarchy. All miners like D-16 could look forward to was working until deactivation, or fighting in the gladiatorial arena for the amusement of others in the higher castes. D-16 saw the corruption and refused to allow such a fate to happen to any more of his brethren. Using his power and skill in the Pits of Kaon he fought countless opponents and won each time. All the while gaining fans, soon those fans became followers like mechs such as Soundwave. With that sort of momentum D-16 now referring to himself as Megatronus began to make plans to approach the Council.
Megatronus became friends with a data clerk by the name of Orion Pax. Pax's outlook was naive but his optimistic attitude was refreshing in some ways given Megatronus' bleak past. When he went to the Council he demanded they relinquish the Matrix to him in order to usher in a new golden age where all were on equal grounds. He was refused and the Matrix given to the same bot he once thought was his friend. Realizing the Council only had their own interests in mind Megatronus now Megatron began a campaign that would change the course of events of Cybertron for centuries. Rising to power and amassing an army he became the warlord he is today. However, a turn of events that almost destroyed Cybertron due to the Chaosbringer Unicron, Megatron has disbanded the Decepticons and has gone into exile. Only time will tell what will become of him.
———————————
RP Alias: Megs
Age: More ehhhs
Preferred Pronouns: He/Him
Who Rules?: I do!!